(Note: The original story was posted on the Quinnipiac Bobcats Sports Network web site at http://theqbsn.com/2015/03/19/a-matter-of-time/.)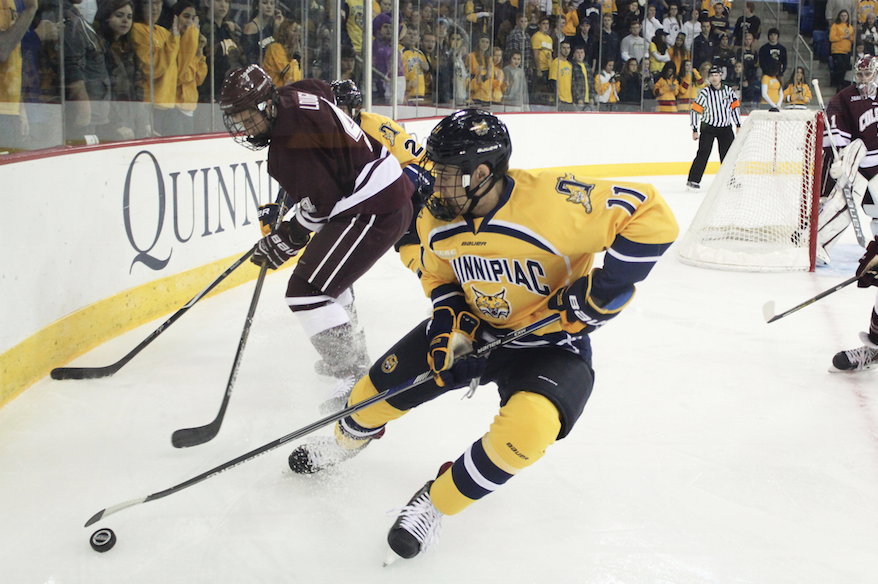 Photo: Rebecca Castagna
It was November 8, 2014. The Quinnipiac men's ice hockey team was hosting Cornell for an Eastern College Athletic Conference game. The Bobcats were undefeated in the ECAC, after winning the night before against Colgate University.
The first period: scoreless. The second period: scoreless.
Two minutes remained in the third period. Fans, players and coaches on both benches were hoping for a goal to avoid overtime. Then one player rose to the occasion. With less than two minutes left, sophomore forward Tim Clifton scored the only goal of the game. He was the unexpected hero.
Since Clifton began playing hockey at a young age, his father, Tim Clifton Sr., noticed he was gifted offensively.
"Growing up, Timmy was always a goal scorer," he said.
Before Clifton's time at Quinnipiac, he played on the Jersey Hitmen in the Eastern Junior Hockey League for three seasons, beginning in 2010. In those three seasons he tallied 49 goals and 86 assists. In his last season playing juniors, he led the league in scoring. His role was to score goals and to produce for his team.
In the 2013-14 season, his first season with Quinnipiac, Clifton scored just three times in 40 games. During that stretch, he was not the player the team looked to in big games.
"For the first time in his hockey career the coaching staff asked Timmy to fill a different role, to be a more physical player," his father said.
During his freshman season, Clifton saw minimal ice time and spent most of his time observing the likes of Jordan Samuels-Thomas and Bryce Van Brabant.
Samuels-Thomas, now with the Rochester Americans, the Buffalo Sabres American Hockey League affiliate, and Van Brabant, now with the Adirondack Flames, the Calgary Flames affiliate, were the types of players who brought physicality and energy to the Quinnipiac roster.
Clifton noted their contributions to the team and how them moving on has left a void in the team.
"You lose guys like Bryce and JST… those are two big bodies that we miss, big [physical] presence in the corners in front of the net, and you know, someone had to kind of step up and do that," he said.
And stepping up is exactly what he did.
"Coach threw me in front of the net on the power play the first couple of weeks in practice," he said. "So I figured he wanted me to be that guy. Just doing what I can do to kind of play more like them."
Playing more like them means becoming bigger, faster, and stronger. A player must be a presence on the ice and be able to maintain puck possession. These are all of the aspects Clifton works to incorporate into his play. But these changes didn't just happen overnight.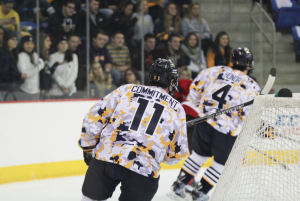 Photo: Rebecca Castagna
Clifton's work ethic to improve his play has not gone unnoticed by senior captain, Matthew Peca.
"He hit the ground running," Peca said. "He had a great summer."
Clifton was eager to be a force, putting in work on and off the ice. He was also able to become bigger in stature, which helped him prepare for his expanded role on the team.
"He gained about 10 pounds of muscle," his father said. "He came into camp ready to go this year."
Clifton's brother and teammate, Connor, reflected on his brother's freshman year and the improvements he's made.
"Last year he didn't put up too many points – he didn't really get that much playing time," Connor said. "But he's really earned it over the summer. He had a big summer. He got stronger, faster. This year he came in with a lot of confidence and he's just producing."
That confidence has propelled Clifton to being the Bobcat's fourth highest goal scorer. Connor has been with his brother every step of the way, so it was no surprise to him that his role on the team has shifted.
"I always thought it was just a matter of time," Connor said. "We've been waiting for it and now it's finally here."
Every athlete has goals and adjustments he or she makes game-to-game and season-to-season. But how Clifton refined his game has defined his role on the squad – so much so that he has found ice time on both the power play and the penalty kill.
"In big spots like that, when coach puts you out on the penalty kill, that's cool," Clifton said. "That's like, hey, he trusts me to do this, I've got to go out there and do it. I have to block a shot, if I have to take one off the face … it's got to be done because he's got that trust in me, my teammates got that trust in me. It's a good feeling."
It's hard for Clifton to pinpoint what he's doing right – he's modest, hesitant to talk about himself. But when pressed enough, he reluctantly admits he owes his success to the little things he has been working on: smarter decisions with the puck and better positioning on the ice.
Clifton's physicality and presence on the ice for the Bobcats has given him more than a confidence boost. It has cemented his place on the team.